Lodge of Instruction Festival 2019
For all master Masons young or old, if you've never heard the ritual from the green book and love ritual, then this is the night for you! Any brother will be amazed at the in-depth knowledge that the green book contains.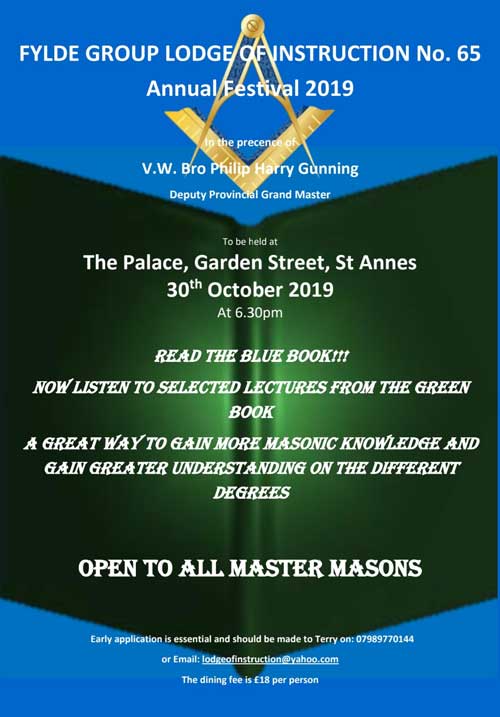 One can only normally see this content at the Fylde Group Lodge of Instruction festival, as it is rarely delivered in normal lodge meetings. The festival is to be held on 30 October 2019, at The Palace, Garden Street, St Annes and is open to all master Masons and above.
Each annual event is presided over by a 'Festival President' chosen by the preceptors and members of the Fylde Group Lodge of Instruction No 65. These have included many distinguished brethren from this and other Provinces. This year the president is to be our own Deputy Provincial Grand Master, Philip Harry Gunning. Philip will be welcomed by the festival team and they will then deliver three lectures from the green book.
The meeting will be followed by a festive board
If you want some more in depth knowledge on the different degrees then please book in or turn up. We would love to see as many of you as possible. Dining is not obligatory but places at the festive board must be booked beforehand, so if you are interested please contact the secretary, Terry Stevens-Lewing on email: lodgeofinstruction@yahoo.com